Lancashire
Root Farm Cottage forms part of the stunning Whitewell Estate, which is owned by His Majesty The King in His capacity as the Duke of Lancaster.
The cottage lies within walking distance of Dunsop Bridge, which is regarded to be the geographic centre of the United Kingdom. An ideal location with walks direct from the door.
There are quiet lanes for cyclists and challenging off-road terrain for the more adventurous. Wildlife abounds and a wide selection of birds can be observed.
For epicureans, the renowned Inn at Whitewell is two miles away, providing lunch and supper with the best local ingredients from the estate. In the nearby the town of Clitheroe, a selection of shops, restaurants, pubs and cafes may be found.
Further afield is the Duchy of Lancaster's Grade I listed Lancaster Castle in the centre of the historic City of Lancaster. Visitors may see the 12th Century keep, explore the dungeons and hear the story of the Pendle Witch trials. The Shire Hall at the castle houses a splendid display of over 650 shields bearing the arms of every English monarch from Richard The Lionheart onward, as well as all the Constables of Lancaster Castle and the High Sheriffs of Lancashire.
From Lancaster, Morecambe Bay may be visited which offers a wide range of activities for all interests.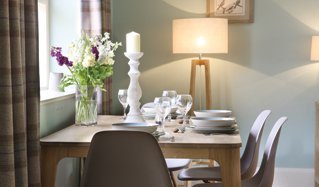 Dunsop Bridge, Nr Clitheroe, Lancashire
Sleeps 4
View

Root Farm Cottage

cottage details
Great things to see and do